Comparing the Top RV Insurance Providers
If you're a new RV owner, finding the best RV insurance that covers all your needs may seem like a daunting task. In some ways, insuring your RV is more like insuring a home than it is a vehicle. Asking your automobile insurance provider to sell you a policy covering your RV may seem like an easy option—but it most likely will not cover everything you need. This is especially true if you travel and use your RV on a full-time basis.
Automobile insurance companies usually offer policies for RVs that are similar to those they offer for regular vehicles, which generally means they offer collision and comprehensive insurance.
Collision insurance covers you if your RV is hit by another vehicle, and comprehensive insurance covers "acts of God," such as a tree falling on your camper or damage from a storm. You do want these types of insurance for your RV if you intend to travel.
There are other things to consider, though. Cars don't have kitchens, sleeping spaces, bathrooms, or stairs. They also most likely won't contain your treasured belongings or your expensive entertainment equipment, such as your 45-inch plasma television and your $2,000 stereo system—things you're more likely to keep in your RV.
Comprehensive insurance won't cover these things if they are damaged due to an accident or a storm. Nor will collision or comprehensive insurance cover you if you're at fault in an accident or if a member of your family damages a neighbor's RV.
In fact, your automobile insurance company may opt not to cover you at all if they know you're using your RV on a full-time basis! Insurance for full-time RV users is more like homeowner's insurance, with aspects such as your kitchen appliances, electricity/heating sources, and belongings are covered if something goes wrong.
If you want to be properly covered on your new vehicle, it's best to investigate your options with companies who specialize in providing RV insurance. These companies are more likely to fit your needs.
Here is a partial list of things you should make sure are covered when shopping for insurance for your RV:
Propane tanks (or the electrical system, depending on how your RV is powered):
Even if you have electricity in your RV, it's likely your refrigerator and water heater run on a propane or LP tank. Fires from gas leaks (particularly behind refrigerators) can occur if you don't have your system checked at least once a year.
Plumbing (bathroom and laundry facilities):
Leaks spring and pipes freeze in RVs just like they do in cars and homes. Make sure your RV insurance covers your bathroom and laundry facilities.
Kitchen appliances:
Extended warranties often cover your appliances, but it's a good idea to check to see if your RV insurance company will cover them, too, in case they are damaged in an accident.
Awnings and slideouts:
It's easy to damage your awnings if you forget to put them in travel position and then damage them while driving. RV insurance can help cover the cost of replacing them.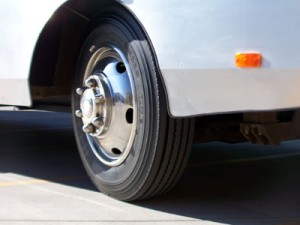 Tires:
Damaging tires on an RV not only can lead to expensive repairs, but is often dangerous. Not only should you insure your tires, you should check them often to make sure they're at the right pressure and don't have any leaks or worn spots.
Any belongings you keep in the vehicle:
It may seem unlikely your RV will burn to the ground or that you'll total it in an accident, but replacing furniture, as well as items such as your plasma TVs, stereo equipment, and computers can be costly if you don't have them insured. Most RV insurance providers offer a provision for personal belongings for policy holders willing to pay the expense.
Your goal, of course, is to find the best coverage possible for what you can afford to pay. The good news is that experienced providers who specialize in providing insurance to RV owners are more likely to insure you even if you use your RV on a full-time bases. The coverage costs more, but it's worth it because you know you're covered no matter what happens.
Check out this handy RV Insurance Quote comparison chart we put together to compare coverage and rates amongst the top RV Insurance providers.
No Comments Yet
You can be the first to comment!